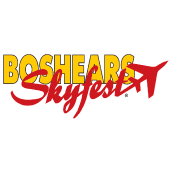 Welcome to the
21st annual


Boshears Skyfest--More than an airshow!

Boshears' 21st Annual Skyfest will be held October 19th and 20th, 2013. Excitement is in the air and on the ground...with lots of fun for the entire family!

Gates open at 9:00 am and opening ceremonies are scheduled for 1:30 pm each day.

We believe you can fly
The mission of Boshears Skyfest is to honor the memory of the Boshears brothers by raising awareness of general aviation and its history in Augusta, especially to the youth of the Central Savannah River Area.

2012 Boshears Skyfest

Boshears History The story of two brothers, Forrest and Buster Boshears, and how it all began...
Aviator of the Year A salute to local aviators past and present...

NEW!

Wheels and Wings A photo gallery of the 2011 air show...