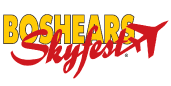 Welcome to the
22nd annual


Boshears Skyfest & Fly-In!

Boshears' 22nd Annual Skyfest will be held October 17th & 18th, 2015. This year's theme is "Love at First Flight!" Excitement is in the air and on the ground, with lots of fun for the entire family! Gates open at 9:00 am and opening ceremonies are scheduled for 1:30 pm each day.

We believe you can fly
The mission of Boshears Skyfest is to honor the memory of the Boshears brothers by raising awareness of general aviation and its history in Augusta, especially to the youth of the Central Savannah River Area.

2015 Boshears Skyfest


Camping and COOKING with Kids Our Camp Out is one of the most enjoyable events at Boshears for all area Boy Scout and Girl Scout troops. Our Scout Camp Out Chairman Dan plans and executes it well. And this year he's added a Cooking Contest!
Come Fly In More and more visitors to Boshears Skyfest & Fly-In are bringing their aircraft with them--here's how you can, too...
Aviator of the Year A salute to local aviators past and present...