Every locale has its local heroes. The Augusta area has many, but probably no two people have brought as much to an area as Forrest and Buster Boshears. Their contribution to this area and to general aviation throughout the Southeast cannot be duplicated. Twenty years ago, friends and aviators wanting to honor the Boshears decided to hold a fly-in in their honor. The show was a resounding success!
With the Fly-In came the discovery of a local interest in aviation, and it was decided that there would be a show the following year, which was even larger! Boshears Skyfest is now one of Georgia's biggest air shows and a much anticipated annual event for thousands of people.

By Frank Christian Jr.
Another chapter in the personal history of the "Flying Boshears" family was written in the Vietnam conflict, when 26 year old Willis M. Boshears, Jr. was decorated with the distinguished Flying Cross and the Air Medal for "extraordinary achievement" as a fighter pilot in Southeast Asia. His uncle Forrest was his instructor, and Forrest worked hard over the years to insure that he would take his rightful place in the family of flyers.
Buster Boshears, Sr. came to Augusta in 1935, not as a pilot, but as a civil engineer, to participate in the construction of the New Savannah Lock and Dam. Previously, his only experience with airplanes had been as a child of ten. Then, he walked fifteen miles, barefooted, from his home in Tiptonville, Tennessee to see some Army airplanes which had landed during a cross-country flight. While the planes were being refueled, he attempted to stow himself away in the fuselage of one of the planes. His dream of flying was somewhat delayed by the careful attention of that Army pilot who caught him and, later, by his schooling. It was in Augusta that Buster took his first airplane ride. He says that it was even more exciting than he had anticipated. The desire to do more flying was so great that he saved and bought a small Piper J-2 Cub, similar to current ones used in inexpensive flight training, and thus began a lifetime flying career. Among his early students were his brother, Forrest, and his wife, Marie, who became one of the first female pilots in Georgia. Another brother in the Boshears family, Miles, was also a great pilot and is remembered today for his acrobatic flying in the bi-wing Stearman. Many of the stunts Miles performed have never been achieved since, or even attempted by other pilots. In 1940, Buster had pretty well made his mark as a first-class instructor and went into partnership with Ernest Williams at the airport on Shultz Hill in North Augusta. Buster humorously related "once we were visited by a CAA official who came into the hangar and asked what airport is this? Ernest proudly announced that it was our own airport. The CAA official left and made his report to headquarters. We later learned that the North Augusta Airport had officially been designated as OUR OWN AIRPORT on the sectional navigational charts." At the onset of World War II, pilots with Buster's skill and experience were scarce. The government offered him a commission in the Navy as a flying officer. The prospects of being a Navy pilot were exciting to Buster, but because of faulty hearing, he could not pass the physical. Back home he began training civilian and Army personnel as pilots. A number of these students were commissioned and flew as fighter and bomber pilots. After the war, his younger brother, Forrest, who had been instructing glider pilots for the war effort, joined him. In 1947, they began operation at Daniel Field. Forrest flew more than 40,000 hours as an instructor and charter pilot and won acclaim throughout the country as one of the finest instructors in the world. With this family background, Buster Jr. took to the air to find his place in the family circle. Many of his early years were spent not only in the trainer with his uncle, but also in the hangar with a broom. He worked as a "line boy", gassed planes for customers, swept the floor, checked the gas pumps and whatever else needed doing around Daniel Field. When payday came around, he would collect his pay in flying time. After many years of hard work and many hours of flying, he got his first license at age 16. All through high school he worked after school and on weekends until he had earned enough flying time to get his Private, Commercial, multi-engine, instrument and flight instructor ratings. In 1962, Buster attended the University of Georgia, where he worked until his graduation as the manager of the Bulldogs, a job which won him praise from head coach, Vince Dooley. Weekends and vacations at home found young Buster flying commercial flights for his father. Upon graduation in 1966, he went into the United States Air Force and because of his outstanding background in flying, was sent to the school for F-105s to train as a pilot for this supersonic fighter-bomber. He finished high in his class and received an award for his skill with this plane. The F-105 is not an easy plane to fly. During his training, eleven planes and three pilots were lost. It flies at speeds up to 1000 miles per hour, with a gross weight of 53,000 pounds. Landing speed is 225 miles per hour, which is a big jump up from the canvas covered J-3. His first assignment was in Thailand where he flew 114 missions over Southeast Asia.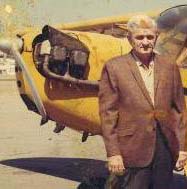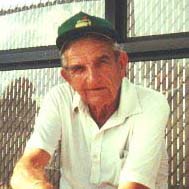 20th Annual Boshears Skyfest Dates
The dates for the 20th Annual Boshears Skyfest have been set for October 20th and 21st, 2012.
Currently, opening ceremonies are scheduled for 1:30 pm each day with the air show to immediately follow. Gates open at 9:00 am each day.